Details
Details
This White Oak Bokken is made of selected high quality Japanese White Oak (Shirogashi) and features a curved spine and rounded butt for a more realistic shinken feeling when training. This long (40") model is recommended for Aikido and Koryu pracitioner for suburi and general paired contact kata practice.
What is Japanese White Oak?
The White Oak Wood used for Japanese Bokken, also called 'Shirogashi', greatly differs from the White Oak Wood referred to when speaking about North American Bokken.
While the North American Oak and Japanese Oak are related, the Japanese White Oak tree is evergreen, due to this it does not have a conspicuous open grain like the American White and Red Oak.
The open grain structure of the American Oak wood produces soft areas which are more prone to impact damage.
Shirogashi on the other hand has a structure that is uniformly hard, has excellent dent resistance and has better impact strength than American Oaks.
Compared to Akagashi the Shirogashi has denser grains which also makes it slightly heavier and more preferable as material for Bokken.
Because of the durability and weight of Shirogashi, it's widely regarded as great material for making high quality Bokken.
Features
Made of high quality Japanese White Oak
All handmade by Japanese expert craftsmen
Made in Japan
Specifications
Total length: 101.5cm (approx. 40")
Blade: 75.5cm
Handle: 26cm
Weight: Approx. 600 grams
Manufacture: Hand Made in Kyoto, Japan
Polish: PU
Additional Info
Additional Info
| | |
| --- | --- |
| Colour | White |
| Related Videos | |
| Product Name | Swords, Tanto Bokken |
| Gender | Any |
| Suitable for Age | Adult |
| Product Net Weight | 600 gr |
| Dimensions | 101.5cm (Blade: 75.5cm Handle: 26cm) |
| Length | 40" 101.5 cm |
| Width | No |
| Height | No |
| Size Options | No |
| Warranty | 7 days from receipt |
| Box Content | 1 Bokken |
| EAN/UPC Code | 680491997463 |
Reviews
Tags
You may also be interested in the following product(s)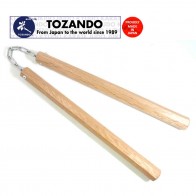 Regular Price: Rs. 6,500.00
Now only: Rs. 4,990.00