Details
Details
You can now play music directly from your smartphone, computer, portable music player, game console, dock or any other source - on Truly High End Speakers!
No extra devices are required - just use one of available audio inputs 3.5mm or RCA or stream your music via Bluetooth®. You can also play your MP-3 music using built-in USB port and SD card reader. Built-in High-Power Class A/B Amplifier combined with audiophile grade drivers always delivers the high-end sound with striking clarity and spaciousness at any volumes. Thanks to 8" active subwoofer the system delivers extremely dynamic low bass.
Your music with you anywhere, anytime!
---
Never be bored with TAGA Harmony inTONE :-)
Depending on your mood, change the color of your inTONE 2.1 grills!
The choice of 4 appealing colors of grills offered in optional packages!
1 package = 1 set of 3 grills (2 for satellites & 1 for a subwoofer)
Black grills are supplied with a product.
---










---

SOUND PERFORMANCE
"During the listening test the TAGA system proves its sonic prowess from the first minute. The compact speakers sound harmoniously, clearly and detailed. Although the tonal balance is not very linear, the small boxes convince us with a pleasant broadband and authentic sound. So the sound of the pop, rock and classical music is always thrilling and agile. In the low frequency of the subwoofer the sound is supported effectively and with powerful and deep basis and doesn't lose its quality even at a subtle monitoring sound level nor not loses its plasticity. Depending on the selected tone setting in the Equalizer Menu Playback the bass speaker character can be adjusted to your personal listening taste or the room acoustics. Thus it helps achieving a perfect balance with the subwoofer and ensures a sustainable music experience.
TEST RESULT

"…The sound quality is consistently tidy, self-confident with the clear treble and deep bass. Thus the 'AV magazine' recommends this speaker set for all users of mobile devices, looking for a shapely, practical and strong sounding hi-fi solution."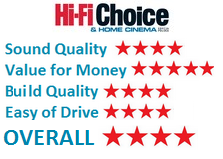 Attractive, affordable music system both in terms of appearance and sound!
PERFORMANCE
"…TAGA Harmony surprises with its sound scale, especially when it comes to bass performance. The bass has a little cinema-like sound style which is deep, widespread and surprisingly well-controlled. The bass is particularly showing its power when the Loudness is on, but even then its dynamics and response remain at a good level - I was able to listen to Patricia Barber's accompanying bass as well as drums and bass guitar in psychedelic songs of the No Man group without any problems. The flat bassreflex port works perfectly, because there are no turbulences and noises audible even at high volumes...
The satellite speakers easily disappear in the room, leaving the listener alone with the music - they sound smoothly and without aggression. The range of treble can effortlessly immerse into the music and show out a lot of details in individual recordings, and the slightly warm midrange makes the vocals being sophisticated typical for more advanced stereo systems. It is particularly worth to mention the sound spaciousness reproduced by the inTONE 2.1, it is by far one of the biggest advantages of the system. The individual tones detach from the speakers with great ease, and the depth of the scene created by those small speakers is really deep and allows keeping track of everything happening on the stage…
Considering the appearance, build quality, sound and actually a bargain price, TAGA Harmony product has a great chance to become a market hit."
---
Specifications:
Design:

2 Satellites + Subwoofer

Satellites: 2-way, 2 drivers, compact cabinet, 9mm MDF TLIE enclosure, Crossover point 4kHz.

Subwoofer: 1 driver, Built-in 2.1ch amplifier, Rear bassreflex,

15mm MDF TLIE enclosure

Satellite High-Frequency Driver:

25mm (1") TWG faceplate, Silk dome

Satellite Bass / Midrange Driver:
102mm (4"), Reinforced paper cone
Subwoofer Bass Driver:

203mm (8"), Heavy duty reinforced paper cone

Subwoofer Built-in Amplifier Power:

Satellites channels:

2 x 25W RMS / 90W Dynamic Peak ;

Subwoofer channel:

60W RMS / 200W Dynamic Peak, Class A/B

Subwoofer low-pass filter 12dB per octave

Frequency Response:

Satellites: 110Hz - 20kHz ;

Subwoofer: 38Hz – 120Hz

Input Sensitivity:

150mV

Connectivity Wired:

3.5mm stereo jack, RCA stereo, USB (MP-3 and charging up to 700mA),

SD/MMC card

Connectivity Wireless:

Bluetooth® v3.0

Bluetooth® Profiles:
Advanced Audio Distribution Profile A2DP, AVRCP, GAVDP
Control Features:
Input, Volume, Treble / Bass (10KHz/100Hz ±7dB), EQ, Balance, Previous-Next-Play/Pause for USB/SD, Remote control, LED display
Included Accessories:
1.5-meter detachable power cord, 2 x 3-meter satellites interconnect cable, 1.8-meter 3.5mm-RCA audio interconnect cable, 1.8-meter RCA-RCA audio interconnect cable, 3 removable black fabric grills, Remote control.
Power Requirements & Consumption:
AC 220 – 230V / 50Hz ; 150W
Dimensions (H x W x D):

22.5 x 13.5 x 16 cm (Sat.)

24.5 x 24.5 x 27 cm (Sub.)

Weight (net):

Satellites: 4.4 kg / pair ;

Subwoofer 6.8 kg / pc.

Finishes:


Paint colors
HIGH GLOSS WHITE
Bluetooth® is a registered trademark of Bluetooth SIG., Inc.
Additional Info
Additional Info
| | |
| --- | --- |
| Related Videos | No |
| Product Name | Bluetooth Speakers, Speakers |
| Brand Name | Boston Acoustics, USA |
| Colour | Wood |
| Dimensions | 32 x 20 x 26 cm |
| Box Content | Two Speakers |
| Warranty | Manufacturer Warranty |
| Product Net Weight | 6.1 kg |
| EAN/UPC Code | No |
Reviews
Tags
You may also be interested in the following product(s)