Details
Details
Wajumo ATG - Little Tyson Magic LED Light for Camping or Emergency Light - 5 Modes Including Mood Lights - Light Even When It's Off: This Little Tyson Magic Lamp truly punches above its weight! Small in size - fits on your palm. The bellow style telescopic lamp shade can be retracted to make it even smaller. It has a High White Light, Low White Light, Candle Light and automatically changing 4 colors mood lights, just at the push of the on/off button. What's more, it glows a weak light from luminescent lamp shade to help you get into your bed in the camp, instead of rummaging through in the total dark. Set the mood light on for peaceful sleep or a romantic night. Set the candlelight and have a romantic Candle Light dinner out in the woods with your mates. Now, didn't we say, this Little Tyson Punches Way Above Its Weight!
Features:
Small and Light - Easy to carry into your camping expedition
A high-quality plastic material, and silicone lampshade - practical and durable.
Built-in carabiner for hanging the light. Push carabiner in the base plate and keep it upright on flat surface.
5 modes:
Press once for High White Light
Press twice for Low White Light
Press three times for Candle Light
Press 4 Times for automatic color changing Mood Light
Switch Off and Hey Presto! The lampshade glows for some time to help you get back into the bed and organize your phone, wallet, other small stuff.
Suitable for outdoor activities, such as camping, traveling and so on.
Great as Emergency Light for Power Break Downs
Specifications:
Base Plate Colours: Purple, Green, Pink, Orange
Material: Fluorescent Silicone, ABS
Size: 45*65mm,65*95mm (Stretch)
Weight:73g
Mood Light Colors: Lemon, Orange, Blue, Purple (all lights have all these mood lights, irrespective of base plate colours)
Power supply: 3xAAAbatteries (Not included)
Package includes: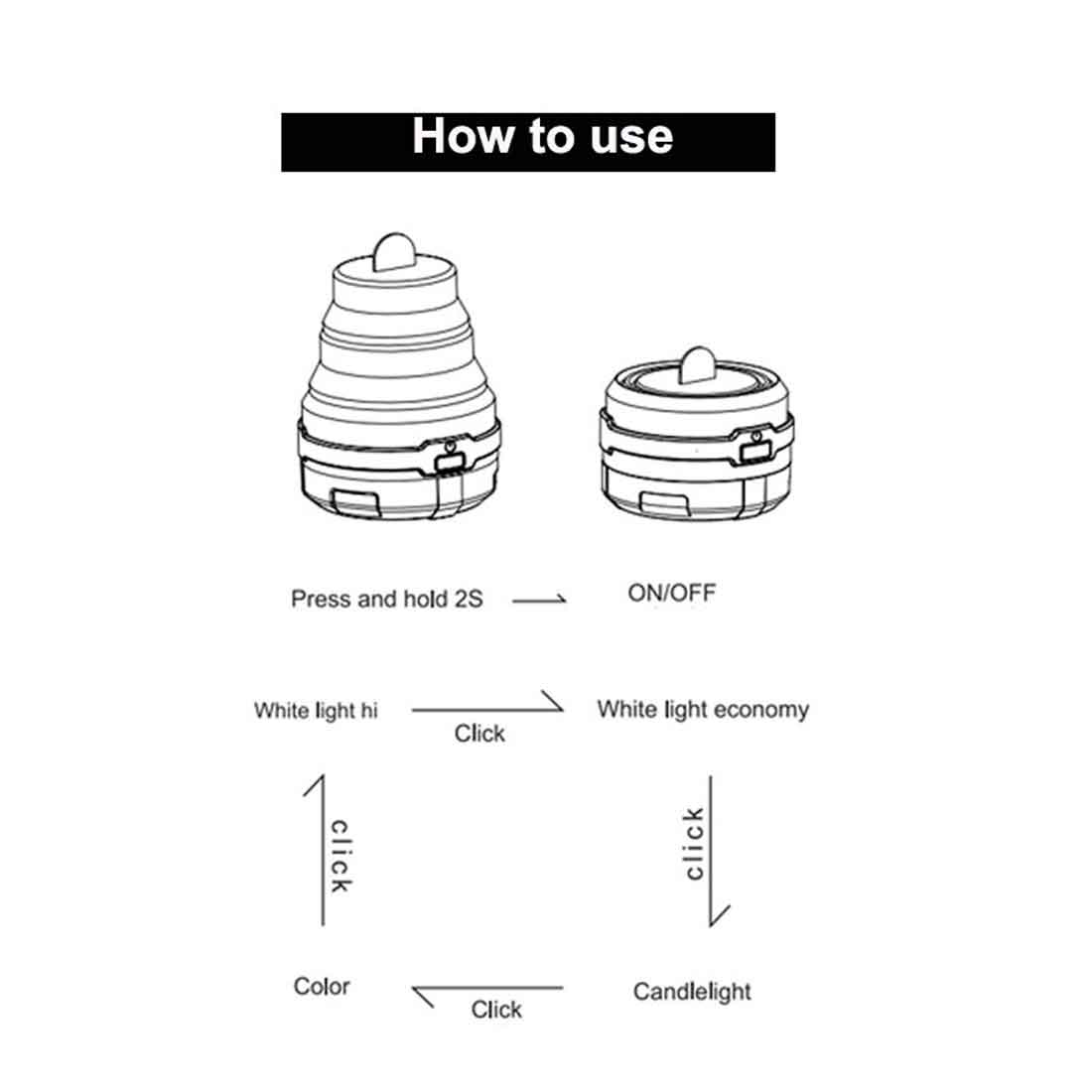 Additional Info
Additional Info
| | |
| --- | --- |
| Gender | Any |
| Suitable for Age | Any |
| Product Name | Lamps, Lights, Lights & Safety, Lights Accessories, Tent Lights |
| Brand Name | Wajumo-ATG |
| Related Videos | No |
| EAN/UPC Code | No |
| Warranty | No Warranty for International Products in India. International Warranty applies Outside India |
Reviews
Tags
You may also be interested in the following product(s)