Details
Details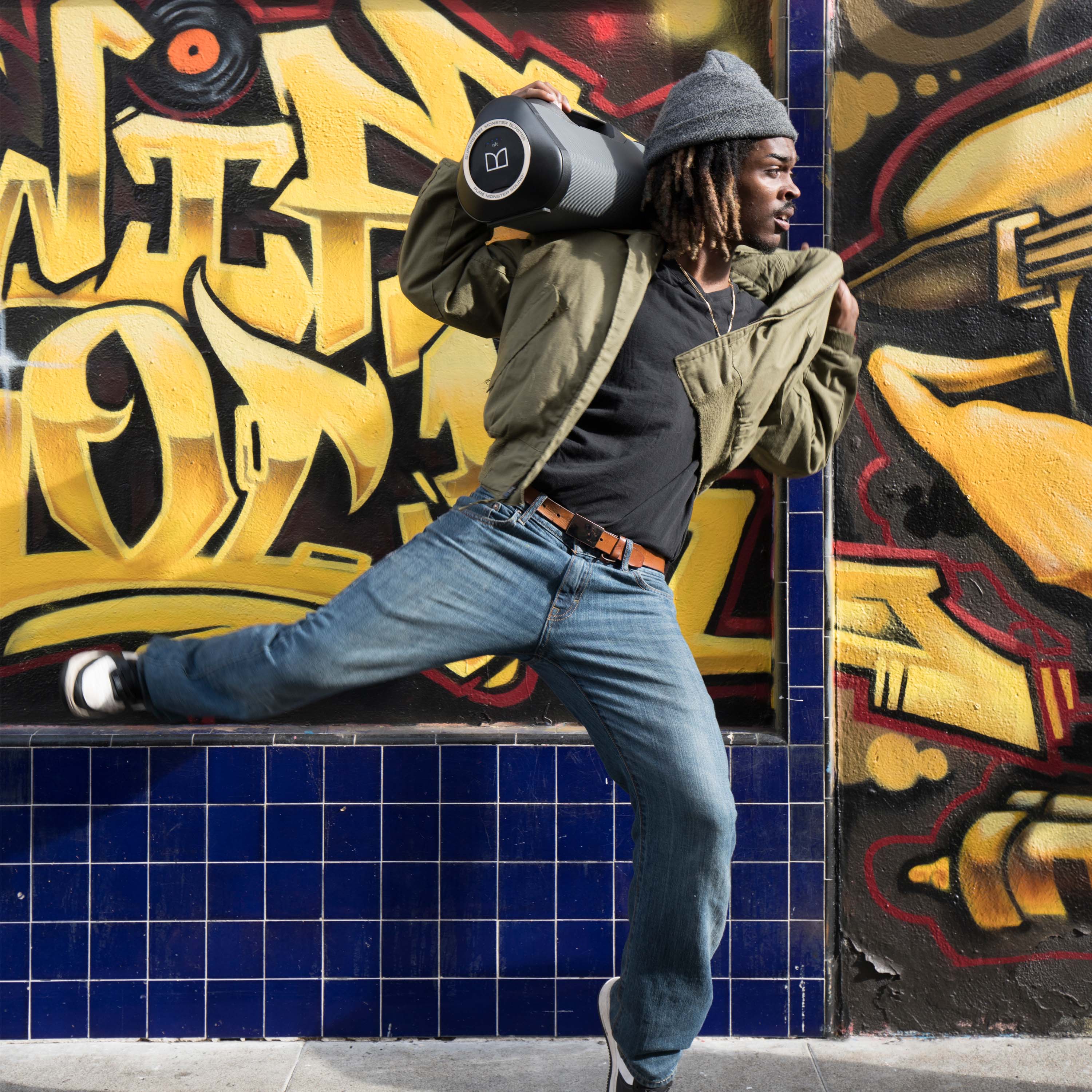 RETURN OF THE BOOM BOX
The BoomBox is a legendary piece of music history that made portable sound a part of urban lifestyle.The Monster Blaster celebrates the classic BoomBox with a modern design and the latest in wireless technology. With deep pounding bass, the Monster Blaster has the power to bring music to life indoors and out. You've never heard anything like this before. But don't take the word for it. Listen for yourself.

Because the music matters.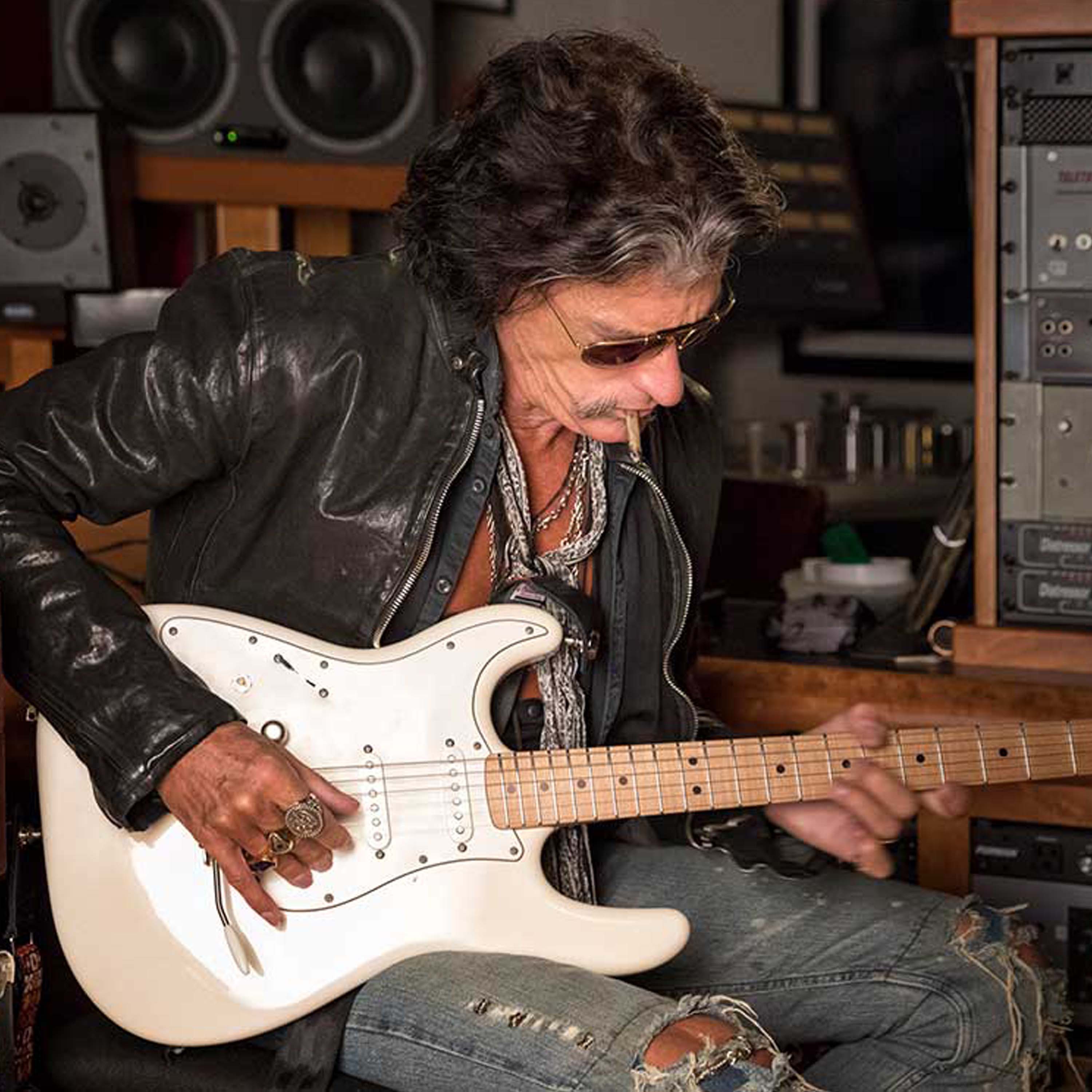 FINDING THE PERFECT BOOM BOX
Hear from Aerosmith's Joe Perry on his search for the ultimate Boom Box.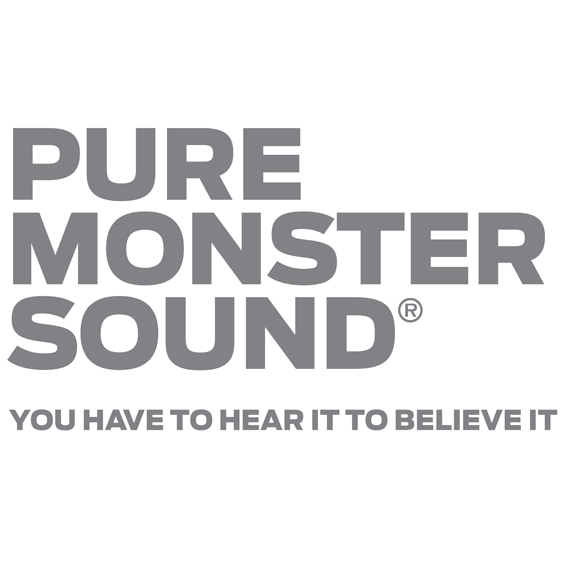 PURE MONSTER SOUND
Deep, clean bass, purity in the mids and highs and tonality and harmonics that shouldn't be possible from a speaker this size. The Blaster can and does get you closer to the music from your favourite artists, with plenty of power to get the party started, no matter where you are.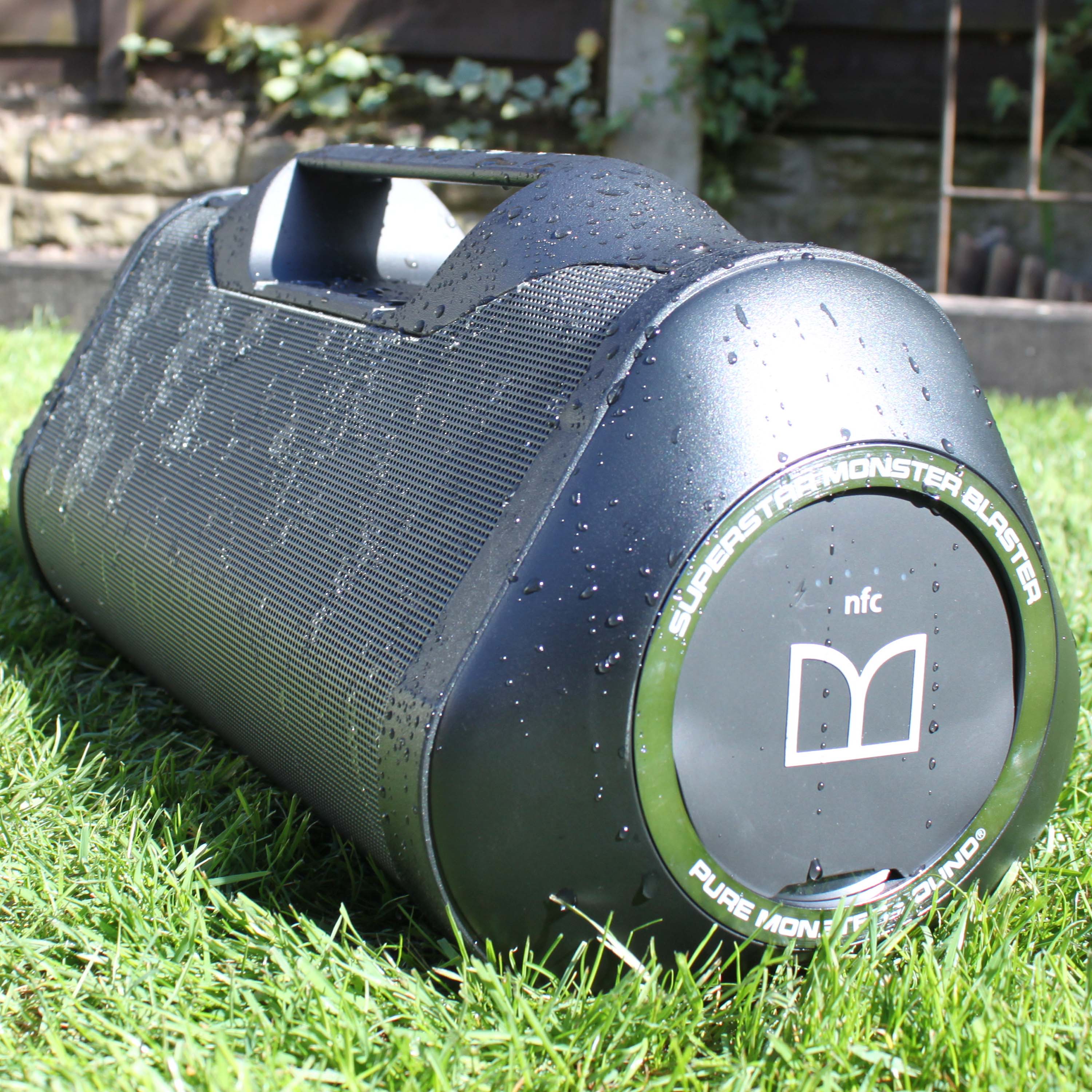 V-SOUND
Monster V-Sound is direct and reflected sound produced by the v-shaped and angled cabinet on the Monster Superstar Blaster. Drivers on both sides create sound that comes towards you and bounces off the wall for a powerful audio experience. Or if you're outside, it fills the space with huge stereo sound in two directions.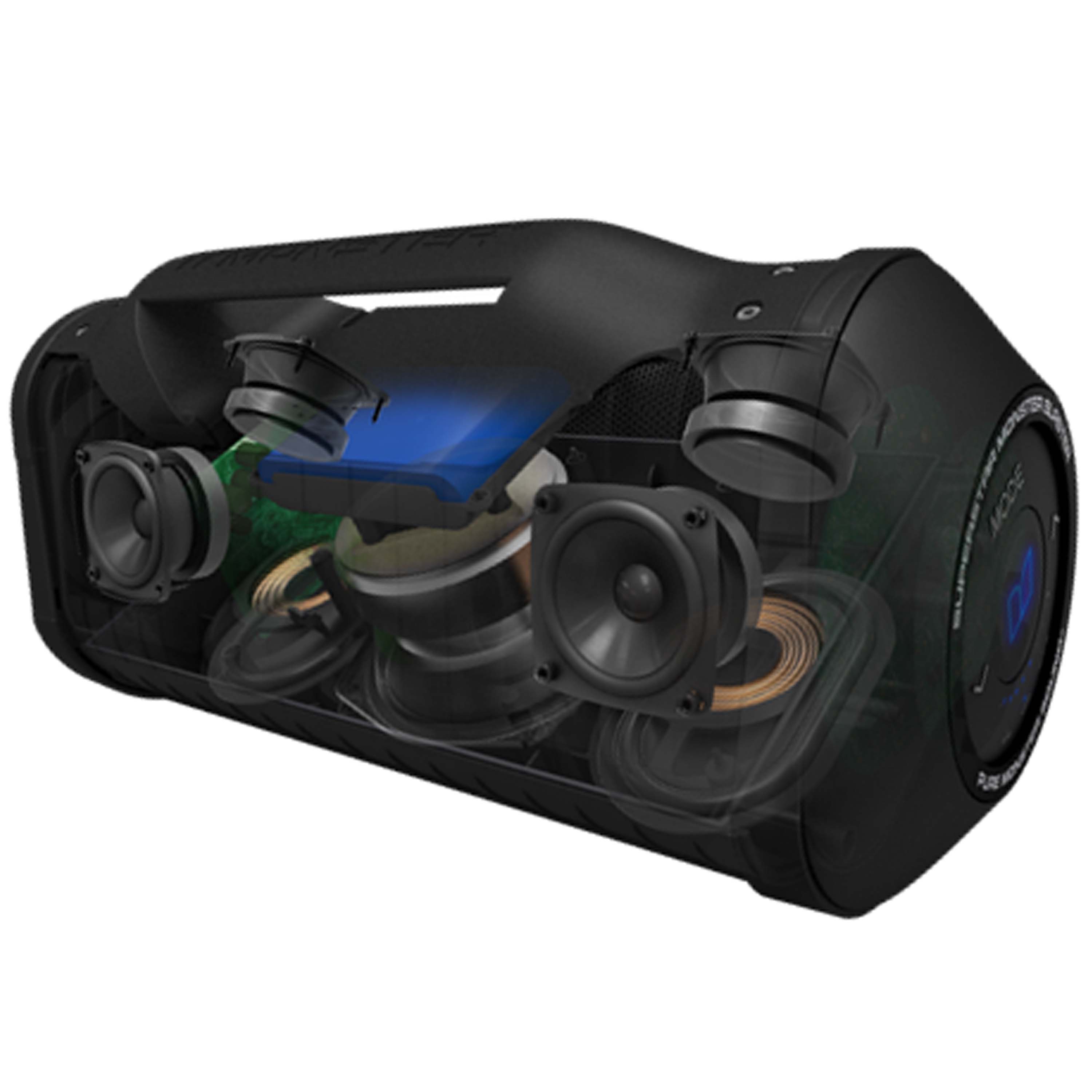 MORE SPEAKERS THAN YOUR AVERAGE
Blaster features 7 speakers and radiators, producing epic sound in all directions. That's more speakers than others in it's class. The speaker set includes a dedicated powered subwoofer in the base of the speaker, delivering real bass response rather than simulated. The rest produces that Pure Monster Sound that brings your music to life.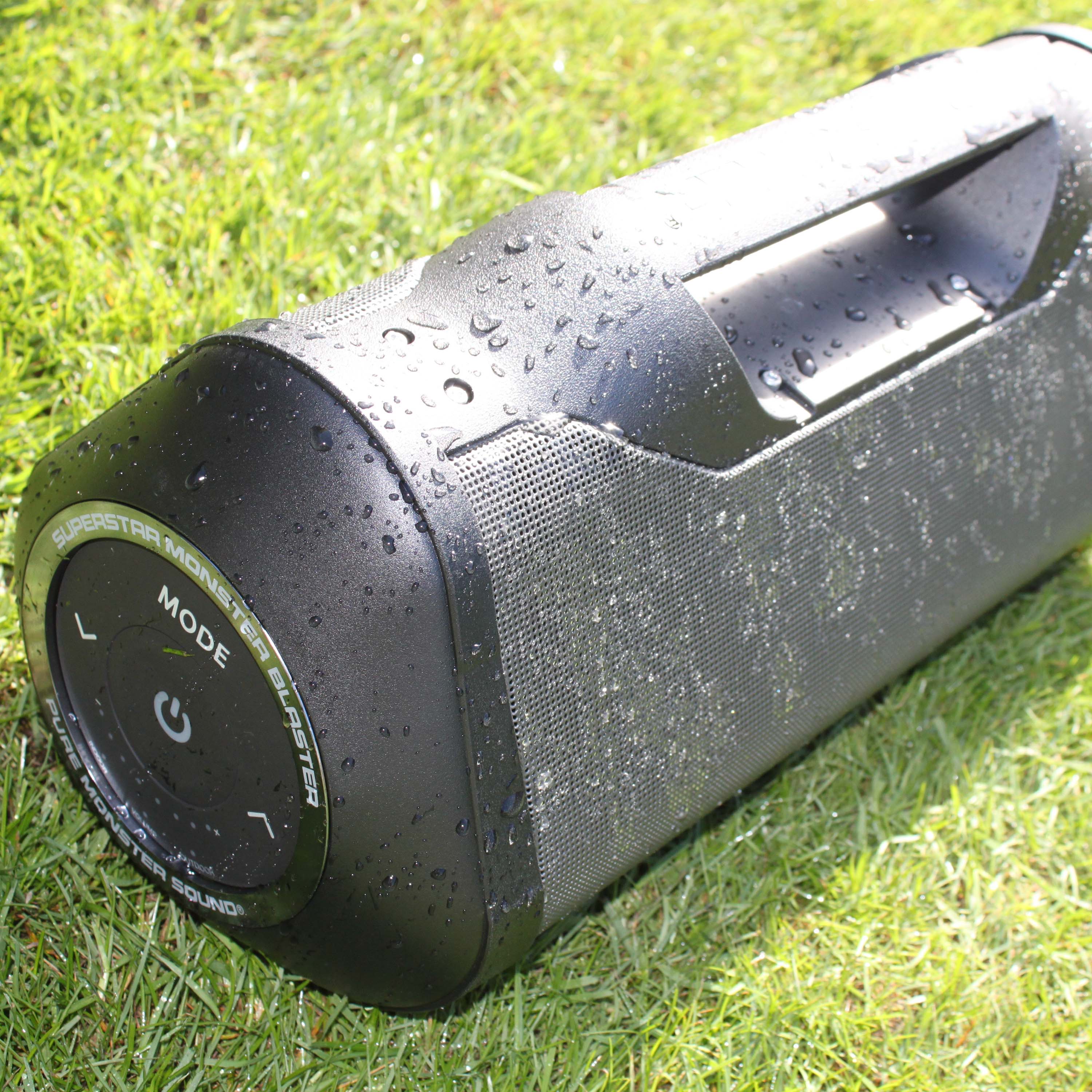 SPLASH RESISTANT AND TOUGH
The Monster Blaster is tough. IPX 5 rated in fact, so you can take it almost anywhere. It's not going to matter if you get caught in the rain, whether it's splashed next to the pool or hot tub, or even if someone drops their drink!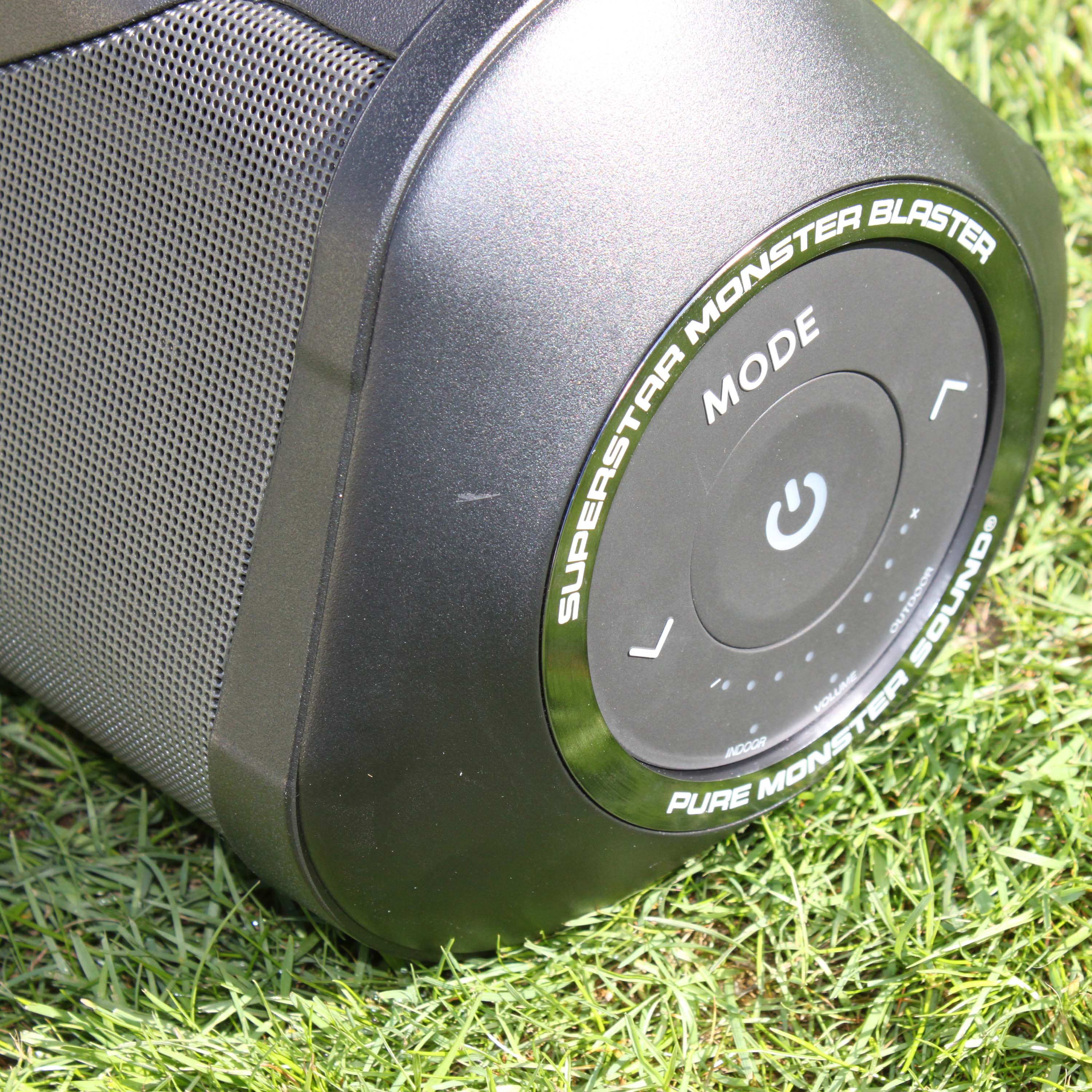 IDEAL FOR USE IN ANY SPACE
The Monster Superstar Blaster has two EQ profiles - indoor and outdoor. The Superstar Blaster has voicing profiles for either indoor or outdoor use to optimize the sound in any environment, with enhanced bass for open outdoor environments. Just hit the "Mode" button on the end of the speaker to switch between the two.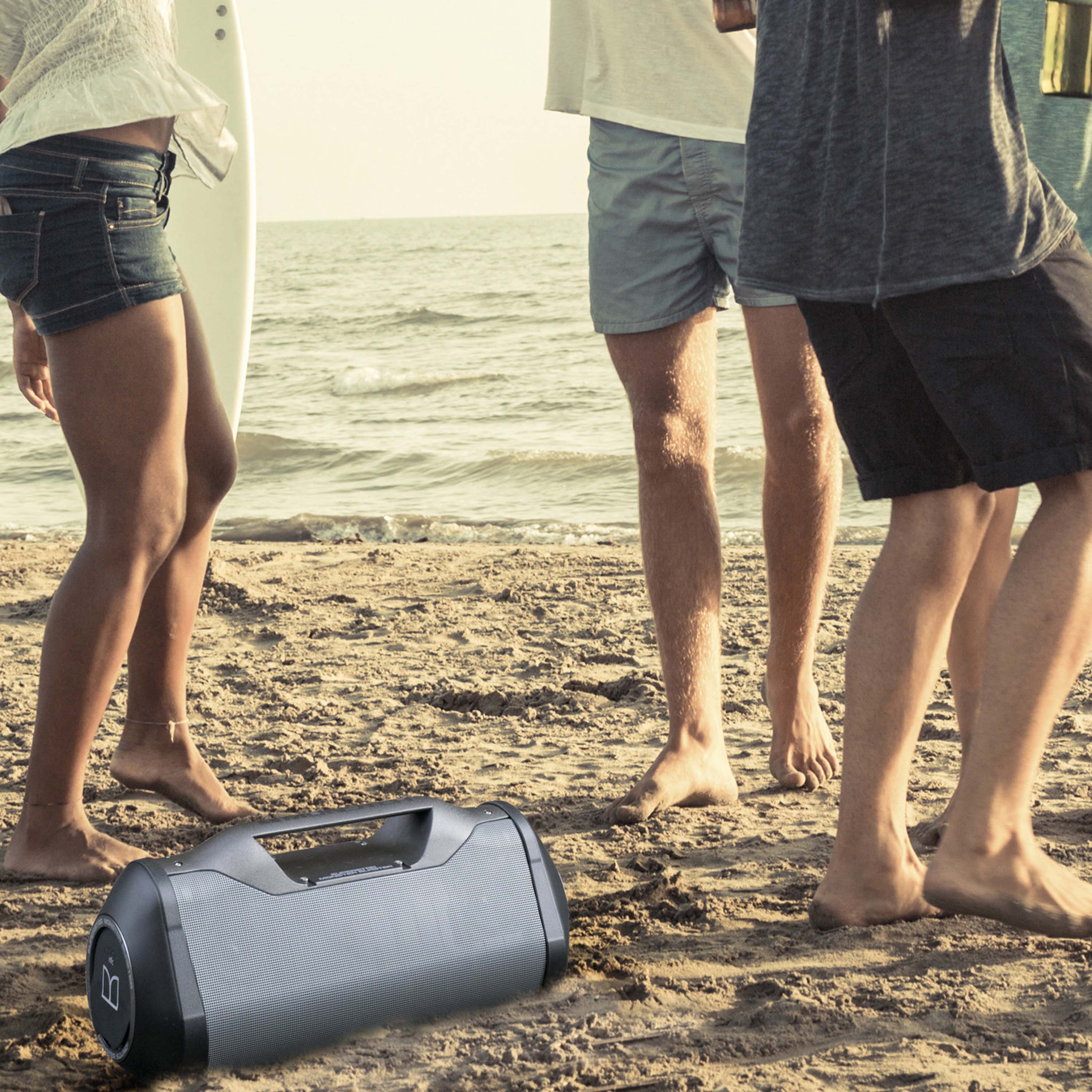 ENVIABLE BATTERY LIFE
The Blaster comes with built-in rechargeable lithium ion batteries - no D-Cells required for this boom box! Blaster is going to give you more than 12 hours of playback, as well as being a huge portable power pack that can also charge your mobile devices. Can it party longer than you?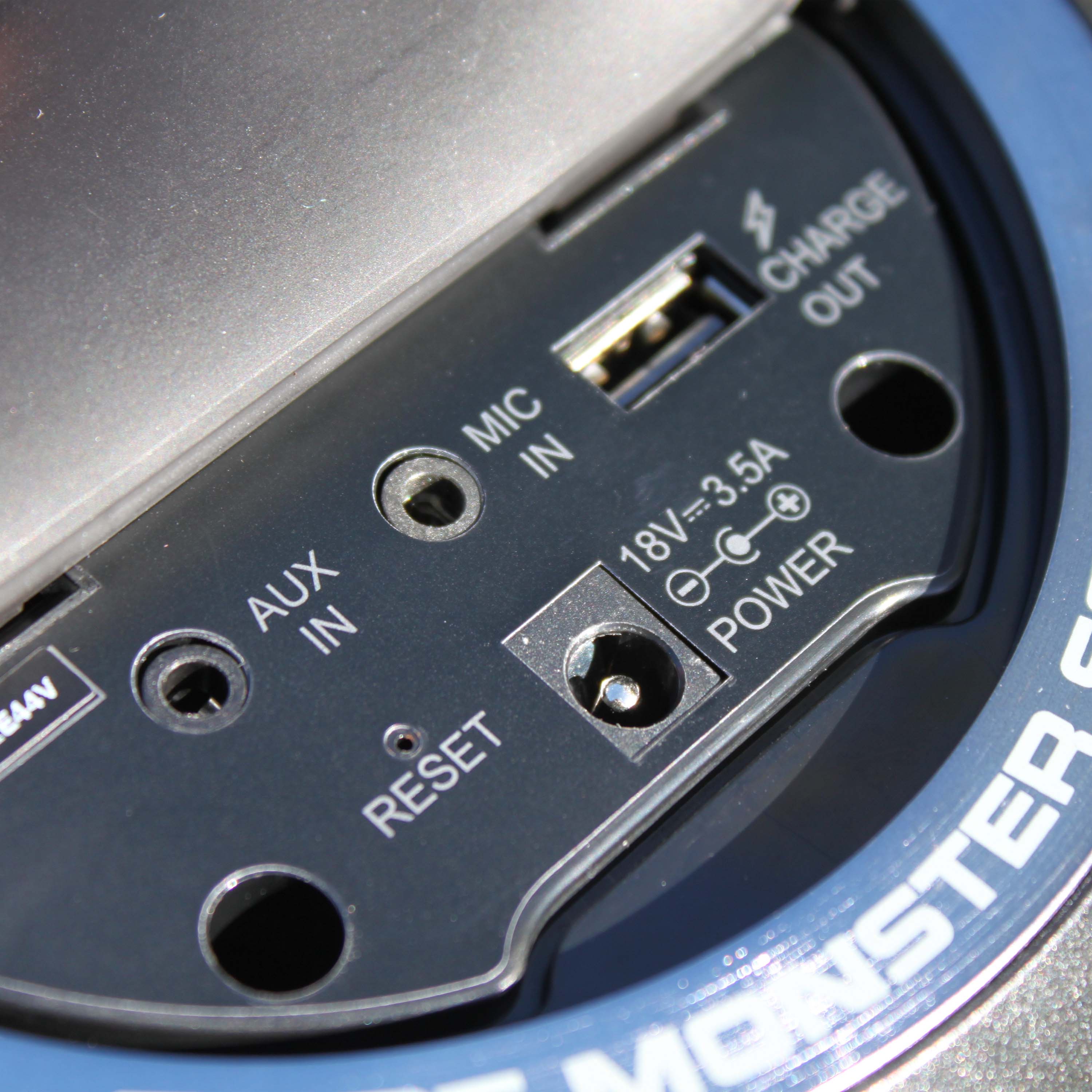 CONNECTION OPTIONS FOR EVERY SITUATION
OK, so we left out the cassette deck and CD player, but we've given you a 3.5mm auxiliary jack to give you the option of playing your tunes from any device. We've also included a microphone input, so Blaster can be used as a PA system. The USB charge out port gives you the ability to charge your mobile devices on the go. Oh, and did we mention it's Bluetooth too?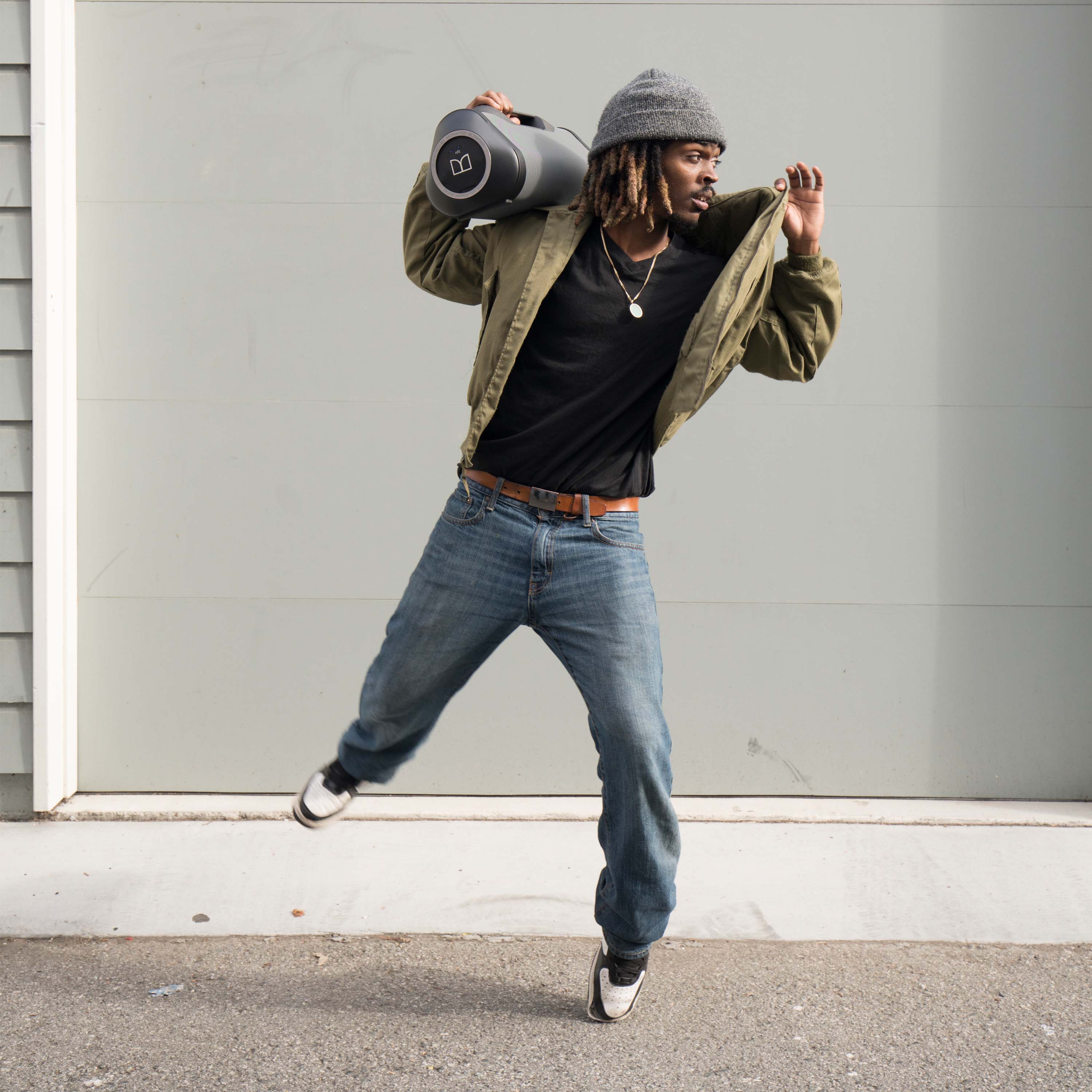 SPECIFICATION SUMMARY
Pure Monster Sound
Bluetooth connectivity
IPX 5 Rated
12+ hour battery life
Multidirectional V-Sound
7 speakers and radiators with dedicated subwoofer
3.5mm auxiliary input
Microphone input
USB charging output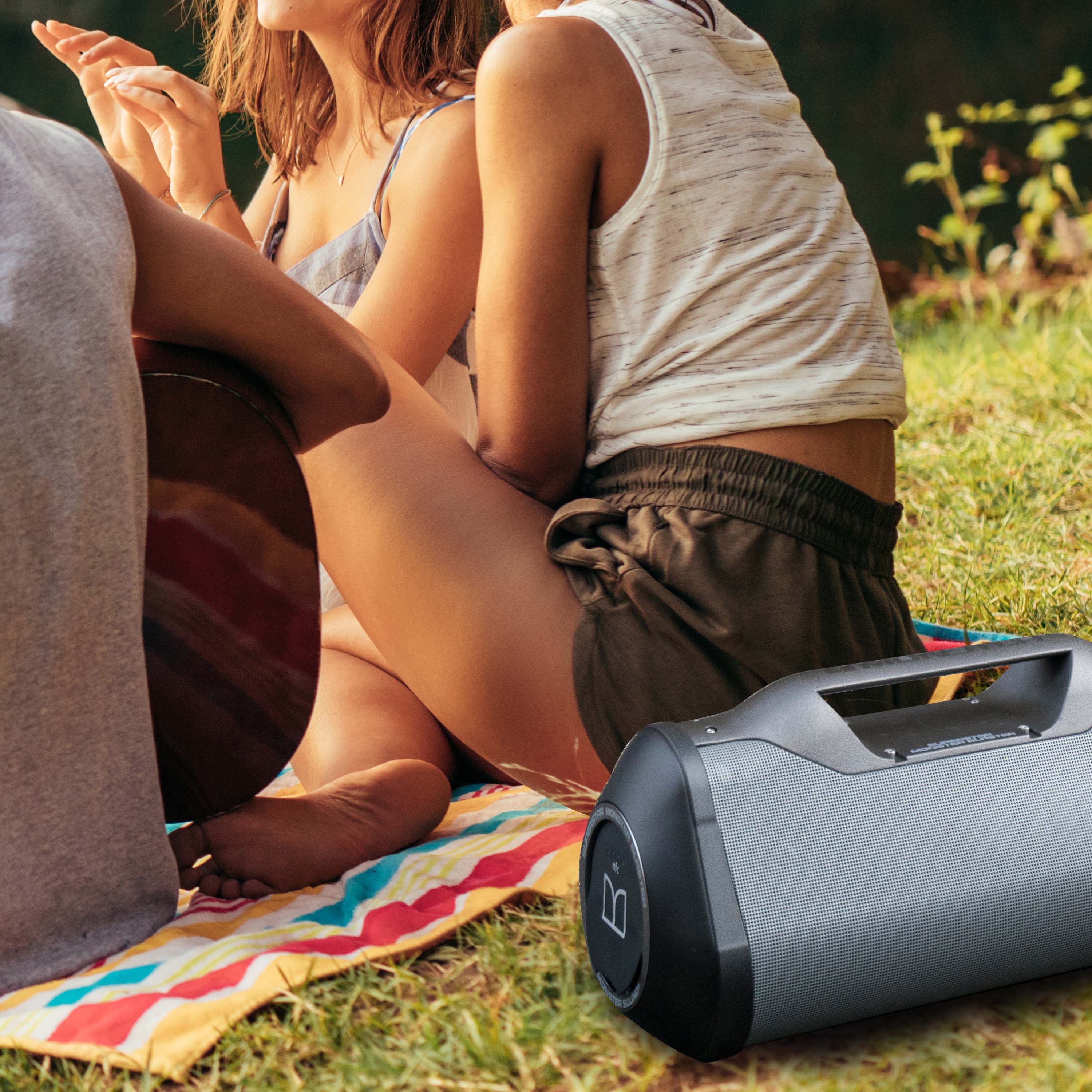 WHAT'S IN THE BOX?
Monster Blaster Speaker
Mains charging cable
Quick Start Guide
Warranty Information
Additional Info
Additional Info
| | |
| --- | --- |
| Related Videos | |
| Product Name | Bluetooth Speakers, Boom Boxes, Speakers |
| Brand Name | Monster Audio, USA |
| Colour | Black |
| Dimensions | 52.1 x 26 x 28.6 cm |
| Box Content | Monster Blaster Speaker, Mains charging cable, Quick Start Guide, Warranty Information |
| Warranty | 1 Year Manufacturer Warranty |
| Product Net Weight | 7.62 Kgs |
| EAN/UPC Code | 129287-00 |
Reviews
Tags