Details
Details
EK ARCHERY CHAMELEON RECURVE BOW KIT 10-15LB: Great childrens' starter compound package, comes equipped to shoot straight out of the package.
An ideal entry level bow for getting into the world of archery. The Chameleon Youth Recurve is small, powerful and require very little physical effort to draw making them ideal for beginners or younger shooters.
The Chameleon recurve bow only requires 10-15lbs draw weight making it ideal for younger or new users. When drawn the cams have a 65% let off meaning the shooter will only be holding 5.25lbs of the 15lbs draw weight.
Measuring 33" Axle to Axle this bow is compact and therefore easy to transport and hold without causing user fatigue. The Brace height on the Chameleon is 7.25" which provides the bow with a large majority of it's power. When drawing the Chameleon has a draw length of 22" allowing the recurve bow to provide clean, accurate shots.
The riser has been CNC machined to a high quality finish and has a comfortable grip providing you with full control over the bow. The Cams have also been CNC machined to help ensure smooth cycling and a smooth pull and release.
PACKAGE INCLUDES
- Stick on rest
- 1-pin Brass Sight
- Simple Quiver
- 3 Finger Roller
- Armguard
- 2 x 26" fiberglass arrows
- Target face
Specifications
Draw Weight: 10-15lbs
Draw Length: 22"
Axle to Axle: 44"
Brace Height: 7.25"
Let-Off: 65%
Additional Info
Additional Info
| | |
| --- | --- |
| Colour | Black, Red |
| Related Videos | No |
| Product Name | Bows |
| Gender | Any |
| Suitable for Age | Youth |
| Product Net Weight | No |
| Dimensions | Axle to Axle - 33" |
| Length | No |
| Width | No |
| Height | No |
| Size Options | No |
| Warranty | 7 days Full Satisfaction Guarantee by 10kya against Description by the seller |
| Box Content | COMPOUND BOW, STICK ON RESTS, 1-PIN BRASS SIGHT, SIMPLE QUIVER, FINGER ROLLERS. ARMGUARD, 2x 26" FIBERGLASS ARROWS, TARGET FACE |
| EAN/UPC Code | No |
Reviews
Tags
You may also be interested in the following product(s)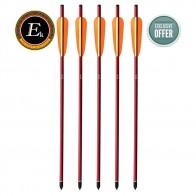 Regular Price: Rs. 2,170.00
Now only: Rs. 1,980.00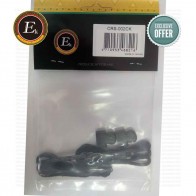 Regular Price: Rs. 599.00
Now only: Rs. 549.00