Details
Details
It is practically the veteran among the GLOCK pistols, with which it all started: Originally equipped with a 9 mm caliber, the licensed replica fires both 4.5 mm pellets and steel BBs and is a lot of fun with around three joules. The heavy metal slide not only looks high-quality, it also ensures a decent weight. Thanks to the blowback, every shot is like a shot from the "real one" and the GLOCK 17 cuts a fine figure with its rifled barrel when it comes to precision. The GLOCK 17 is a real collector's item and, with its original GLOCK case, a must-have for all fans.
Caliber 4.5 mm (.177) diabolo / BB

Drive 1x 12 g CO₂

Magazine/drum capacity 8 shots

Deduction Single / double action

Fuse Slide lock

Energy level <3.0 y

Bullet velocity 130 m / s (427 fps)

Number of shots (per filling/capsule) 120 rounds

Holster type A.

Length 205 mm

Weight 795 g
10kya expects the users to shoot responsibly. Do not target birds or animals. Pointing the air pistol/rifle, loaded or unloaded, is an offence against any living being.
This imported Rifle is being sold from the stocks of our sellers and is available for Immediate Dispatch in limited stocks against Address Proof and Photo ID. However, the seller would like you to know that if the local stocks are exhausted then new imports can be done only against Shooter ID. HURRY, Buy Now!
* Requires customer to be 18 years of age or older. Kindly remove these items from cart if you are not 18 years of age.
** Customer must not be under any legal prohibition to purchase this product. Kindly remove this item from cart if you are legally prohibited to posses this product in your locality.
Additional Info
Additional Info
Colour
Black
Related Videos
No
Calibre
0.177 in - 4.5 mm
Velocity FPS
427 fps
Barrel Length
205 mm
Shooting Range
10 M
Shoots Pellets/BB
BB
Cocking
CO2 8 shots
Product Name
Air Pistol
Suitable for Age
Adult
Energy
~3 Joules
Moderated Energy
~3 Joules
Product Net Weight
No
Length
No
Width
No
Height
No
Warranty
International Manufacturer Warranty, Limited Warranty in India
Safety Operations Information

Learn how to handle your gun in a safe and proper manner. Remember that according to the basic rules of safety, touching a gun is the same as handling it.
Always aim in a SAFE DIRECTION. Always keep the muzzle of the airgun pointed in a SAFE DIRECTION.
Always keep your finger off the trigger and out of the trigger guard until ready to shoot.
Never point the airgun at anything you do not intend to shoot.
Never point an airgun at people or pets.
Always treat the airgun as though it is loaded and with the same respect you would a firearm.
Never look down the barrel of an airgun.
Always keep the airgun "ON SAFE" until you are ready to shoot.
Always check to see if the airgun is "ON SAFE" and unloaded when getting it from another person or from storage.
Never leave a loaded airgun unattended. • Use only the proper size and type of projectile as it is marked on the airgun.
Never reuse ammunition.
Do not shoot at hard surfaces or at the surface of water. The projectile may bounce off or ricochet and hit someone or something you had not intended to hit.
Do not shoot at fragile objects such as windows.
Place the backstop in a location that will be safe should the backstop fail.
Your backstop should be checked for wear before and after each use. All backstops are subject to wear and will eventually fail. Replace your backstop if the surface is worn or damaged or if a ricochet occurs.
Do not attempt to disassemble or tamper with your airgun. Unauthorized repairs or modifying the function of your airgun in any way may be unsafe and will void your warranty.
Before you store or transport your airgun, make sure it is unloaded and is "ON SAFE."
Always store your airgun in a secure location away from unauthorized users and separate from ammunition.
Only persons who are thoroughly familiar with the airgun's function and proper use and who are allowed by law should handle the airgun.
Always wear safety shooting glasses when shooting or performing maintenance on airguns.
Only shoot where permitted by law.

Box Content
One Air Pistol, Magazine, 1 12G CO2 Cartridge
Reviews
Tags
You may also be interested in the following product(s)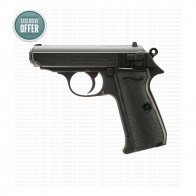 Regular Price: Rs. 40,000.00
Now only: Rs. 34,990.00