Details
Details
Before IHP stopped manufacturing airguns, their Competition Air PCP Pistol was legendary in domestic competitions. Accuracy of pistol is 100%. Pcp pump pressure is 300 bar. Comes with pump to easily fill the PCP chamber for great shooting.
Pre-Owned - Sold by Ashish, Haryana - Ashish Says, "I have used it with great care and it is as good as new" FREE Delivery all over India by 10kya Fulfillment Logistics Team. Usage & Product Conditon Note: Not Available. product_condition: Used; warranty: Out of Warranty: age_of_product: 6 month -1 Years; original_box: No; product_manuals: NA: original_invoice: No; accessories: Bag and Pump
Total Satisfaction Guarantee: If the product is not as described in the used-product-condition specified by seller, inform us within 7 days from receipt. If the product is not as described by the seller, we will give you 100% money back on return of product. In case of dispute, 10kya assessment will be final. If product is as described, customer will have to accept it back. If the product is not as described, the seller will take it back. The to and fro cost will be to the account of final possessor of the product.
Safety Operations Information
Learn how to handle your gun in a safe and proper manner. Remember that according to the basic rules of safety, touching a gun is the same as handling it.
Always aim in a SAFE DIRECTION. Always keep the muzzle of the airgun pointed in a SAFE DIRECTION.
Always keep your finger off the trigger and out of the trigger guard until ready to shoot.
Never point the airgun at anything you do not intend to shoot.
Never point an airgun at people or pets.
Always treat the airgun as though it is loaded and with the same respect you would a firearm.
Never look down the barrel of an airgun.
Always keep the airgun "ON SAFE" until you are ready to shoot.
Always check to see if the airgun is "ON SAFE" and unloaded when getting it from another person or from storage.
Never leave a loaded airgun unattended. • Use only the proper size and type of projectile as it is marked on the airgun.
Never reuse ammunition.
Do not shoot at hard surfaces or at the surface of water. The projectile may bounce off or ricochet and hit someone or something you had not intended to hit.
Do not shoot at fragile objects such as windows.
Place the backstop in a location that will be safe should the backstop fail.
Your backstop should be checked for wear before and after each use. All backstops are subject to wear and will eventually fail. Replace your backstop if the surface is worn or damaged or if a ricochet occurs.
Do not attempt to disassemble or tamper with your airgun. Unauthorized repairs or modifying the function of your airgun in any way may be unsafe and will void your warranty.
Before you store or transport your airgun, make sure it is unloaded and is "ON SAFE."
Always store your airgun in a secure location away from unauthorized users and separate from ammunition.
Only persons who are thoroughly familiar with the airgun's function and proper use and who are allowed by law should handle the airgun.
Always wear safety shooting glasses when shooting or performing maintenance on airguns.
Only shoot where permitted by law.
* Sold to 18 Years and above only against Address Proof and Photo ID
** Remove this item from your cart, if prohibited by law to buy such items
Additional Info
Additional Info
| | |
| --- | --- |
| Colour | Black, Red |
| Related Videos | No |
| Product Name | Pellets |
| Gender | Any |
| Suitable for Age | Adult |
| How Old | 0-6 Months |
| Condition | As Good As New |
| Original Box Available | Yes |
| Original Invoice Available | No |
| Original Manuals Available | No |
| Accessories Available | No |
| Available Accessories & Extras | NA |
| Warranty | 7 days Full Satisfaction Guarantee by 10kya against Description by the seller |
| Product Net Weight | 250 g |
| Dimensions | No |
| Box Content | 500 pellets |
Reviews
Tags
You may also be interested in the following product(s)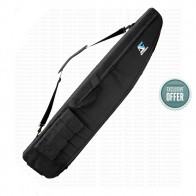 Regular Price: Rs. 6,200.00
Now only: Rs. 4,299.00