Details
Details
Transparent Kayak with Double Stablisation Bars - Get a 360ª View on Your Day Out on Water
A unique Polycarbonate Transparent Kayak which is super light, super strong and clear as water. Now do your kayaking without missing out on magical views of the marine life underneath the boat. 3330x910x 370mm or ~10' 9.2" x 2' 9.8" x 1' (1' 2.1") (LxBxH) dimensions give perfect room for You and Your Partner, in this two person Kayak. 6mm thick Polycarbonate body is strong and yet light, and it is strengthened further by an Aluminium Frame around the kayak. It has two stablising bars on sides which prevent the kayak from overturning. Great for learners as well as leisure hunters who want to boat in total safety. The whole package comes with 1 kayak + 2 seats + Alu frame + 2 paddles + 2 airbags. Carries one year warranty against manufacturing defects.
IMPORTANT NOTE: Available on direct import. Allow 4-6 weeks after order for delivery. Always wear safety vests while on water.
Specifications:
Length

: 3330 mm or 10 feet 9.2 Inches

Height: 910 mm or 2 feet 9.8 Inches

Width: 330 mm or 1 feet 2.1 Inches

Thickness: 6 mm

Weight: 21.5 Kilos

Load Capacity: 200 Kilos, or 2-3 adults.
Package includes: 1 kayak + 2 seats + Alu frame + 2 paddles + 2 airbags
Additional Info
Additional Info
| | |
| --- | --- |
| Colour | Transparent |
| Related Videos | No |
| Product Name | Kayak Boats |
| Gender | Any |
| Suitable for Age | Adult |
| Product Net Weight | 21.5 Kilos |
| Dimensions | 3330x910x 370mm or ~10' 9.2" x 2' 9.8" x 1' 2.1" (LxBxH) |
| Length | 3330 mm 10 feet 9.2 Inches |
| Width | 370 mm or 1 feet 2.1 Inches |
| Height | 910mm or 2 feet 9.8 Inches |
| Size Options | No |
| Warranty | 1 Year Manufacturer Warranty against manufacturing defects |
| Box Content | 1 kayak + 2 seats + Alu frame + 2 paddles + 2 airbags + 2 Stabilsing Bars |
| EAN/UPC Code | 680491997449 |
Reviews
Tags
You may also be interested in the following product(s)
Regular Price: Rs. 146,000.00
Now only: Rs. 96,899.00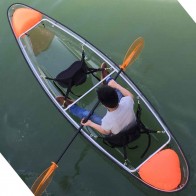 Regular Price: Rs. 142,000.00
Now only: Rs. 94,499.00