Details
Details
Stainless Steel EXO™ antenna with GPS + GLONASS support for fast fix and accuracy
Sapphire glass lens, strong link stainless steel watch band and an extra black elastomer strap
3.1 cm sunlight readable colour Chroma™ display
Altimeter, barometer and 3-axis compass with auto calibration
Support for a broad selection of sports and activities with dedicated user profiles like trail running, swimming, hiking, skiing and more
Advanced fitness training features including VO2 Max and Recovery Advisor and classic Garmin navigation features like TracBack
Smart features like Smart Notification and Connect IQ™ App support for further customisation
Physical & Performance

Physical dimensions
51.5 x 51.5 x 16.0 mm
Display size, WxH
30.4 mm diameter
Display resolution, WxH
218 x 218 pixels; transflective MIP color; sapphire lens
Colour display
Negative mode display
Weight
Titanium, titanium band: 4.8 oz (136 g); Titanium, silicone band: 2.8 oz (79.4 g)
Gray, leather strap: 3.0 oz (85 g)
Black, nylon strap: 2.8 oz (79.4 g)
Others: with all links, 6.56 oz (186 g); With rubber bands: 3.0 oz (85 g)
Battery
Rechargeable 300mAh lithium-ion
Battery life
Up to 50 hours in UltraTrac mode; up to 20 hours in GPS training mode; up to 6 weeks in watch mode
Water rating
10 ATM
GPS-enabled
GLONASS
High-sensitivity receiver
Barometric altimeter
Electronic compass
Smart notifications (displays email, text and other alerts when paired with your compatible phone)
Vibration alert
Music control
Find my phone
VIRB® control
Watch functions
Time of day (12/24h), calendar (day/date), daily alarm, stop watch, timer, sunrise/sunset alerts
Maps & Memory

Course preview (see detailed, hole-by-hole preview)
Built-in memory
32 MB; available 23 MB
Custom POIs (ability to add additional points of interest)
Waypoints/favorites/locations
1,000
Routes
30
Track log
100 hours of activity data
Running Features
Virtual Pacer™ (compares current pace to target)
V02 max estimate
Recovery advisor
Race predictor
Running dynamics
Accelerometer (calculates distance for indoor workouts, without need for a foot pod)
Personal records
Cycling Features

Compatible with Vector™
Multiple bike profiles
Bike speed/cadence sensor
Yes (optional)
Performance Features

Heart rate monitor
Yes (Some versions)
Virtual Partner® (train against a digital person)
Virtual Racer™ (compete against other activities)
Courses (compete against previous activities)
Auto Pause® (pauses and resumes timer based on speed)
Auto Lap® (automatically starts a new lap)
Auto Scroll (cycles through data pages during workout)
Multi-sport
Auto multisport (switch sport modes with 1 button press)
Advanced workouts (create custom, goal-oriented workouts)
Pace alert (triggers alarm if you vary from preset pace)
Time/distance alert (triggers alarm when you reach goal)
Interval training (set up exercise and rest intervals)
Heart rate-based calorie computation
Calculates calories burned
Training Effect (measures impact of an activity on your aerobic fitness)
Customisable screen(s)
Power meter compatible (displays power data from compatible 3rd party ANT+™-enabled power meters)
Swimming Features
Pool swim metrics (lengths, distance, pace, stroke count/rate, calories)
Stroke type identification (e.g. freestyle)
Open water swim metrics (distance, pace, stroke count/rate, calories)
Swim workouts
Golfing Features
Measures shot distance (calculates exact yardage for shots from anywhere on course)
Yardage to F/M/B (distance to front, middle and back of green)
Yardage to layups/doglegs
Digital scorecard
Outdoor Features
Hunt/fish calendar
Sun and moon information
Area calculation
Activity Tracking Features
Step counter
Auto goal (learns your activity level and assigns a daily step goal)
Move bar (displays on device after a period of inactivity; walk for a couple of minutes to reset it)
Sleep monitoring (monitors total sleep and periods of movement or restful sleep)
Garmin Connect™
Garmin Connect™ compatible (online community where you analyse, categorise and share data)
Automatic sync (automatically transfers data to your computer)
Additional

Additional

Connect IQ™ app support: Yes (watch faces, data fields, widgets and apps)
EXO™ antenna (GPS/GLONASS): Yes
Wi-Fi®: Yes
ANT+®: Yes
Bluetooth® 4.0 LE: Yes
Weather Alerts: Yes
UltraTrac: Yes
tempe™ sensor support: Yes
TracBack: Yes
Ski features: Yes
Physiological measurements: Yes
SUP/Rowing: Yes
True Performance Meets True Style
Stainless steel EXO™ antenna with GPS and GLONASS reception
1.2-inch sunlight-readable Garmin Chroma Display™ in colour with high-strength domed sapphire lens
Fitness training features like advanced running dynamics stride length, vertical ratio, VO2 max, recovery advisor and more¹
Outdoor navigation features like 3-axis compass, altimeter and barometer and TracBack™ feature

Smart Notifications and download data fields, watch faces and apps from Connect IQ™

fēnix 3 Sapphire is the uncompromising GPS sport watch designed for demanding athletes and outdoor adventurers. It is powered by GPS and GLONASS via the new metal EXO antenna and a brilliant colour display protected by a scratch resistant domed sapphire glass lens. fēnix 3 comes packed with multi-sport training, trail running and navigation. It introduces a tough athletic design with quality materials and smart features like .
No matter what you take on - this is your watch!
fēnix 3 Sapphire is designed to assist people during their sport activities and outdoor life. It supports performance sports like running, cycling, swimming, trail running, rowing, indoor training, cross country skiing as well as triathlon and recreational activities such as hiking, SUP, climbing and downhill skiing and more. It measures performance on the go, tracks activities for sharing and navigates the user back home at the end of an adventure. And it does not stop there, the new Connect IQ App support for fēnix 3 opens up the potential to develop many more functions and for all sorts of activities.
Serious Style That Stands Up to the Roughest Conditions
fēnix 3 Sapphire watches are available in 5 different styles: rose gold-tone with white band, silver with leather band, grey with classic leather strap, titanium and the classic stainless steel. Each watch features an EXO-Antenna fully integrated into a protective metal bezel and an ultra-strong glass-fibre reinforced housing for extra durability. A sunlight-visible, high-resolution colour Chroma Display with LED backlight shows your data clearly in any light. fēnix 3 is and has a battery life of up to 50 hours in UltraTrac™ battery saver mode, up to 20 hours in GPS mode and up to 3 weeks in smartwatch mode (all depending on settings).
The Proof of Your Potential
fēnix 3 Sapphire is packed with training features to tell you about your form and fitness. The first is the VO2 max estimator. When used with a heart rate monitor¹, fēnix 3 crunches data, including your running speed, beats per minute and heart rate variability to estimate the maximum volume of oxygen you can consume per minute. Track changes to your VO2 max to see your fitness gains and to compare with your peers. Other fitness metrics include recovery advisor with a recovery timer and recovery check, plus a race predictor, which estimates your ideal finish time based on your current VO2 max number.
All the Numbers to Measure a Runner
Once running gets serious fenix 3 Sapphire with optional HRM-Run heart rate monitor tracks all the advanced metrics that are needed to better understand and improve:
Advanced Running Dynamics1 analyse your running:
Vertical oscillation and ratio — the degree of 'bounce' in your running motion and the benefit ration to stride length
Ground contact time and balance — shows how much time, in the running motion, your foot is on the ground rather than in flight and lets you check your running symmetry
Cadence — number of steps per minute
Stride length — determines a responsive current pace
Physiological metrics measure your heart to provide:
Stress score - fēnix 3 measures your heart rate variability while standing still, for 3 minutes, to provide you with an estimated stress level. The scale of this is 1 to 100, low scores indicate lower stress levels
Performance condition - After running for 6-20 minutes, fēnix 3 compares your real-time condition to your average fitness levels
Lactate threshold - Through analysis of your pace and heart rate, fēnix 3 estimates the point where your muscles start to rapidly fatigue
Tracks Your Performance in Many Sports in Many Ways
fēnix 3 Sapphire is for the athlete that wants to track his performance in various sports. Beyond running it has also special features that support swim training, skiing, rowing sports, including stand up paddle boarding and even golfing. During swimming workouts fēnix 3 tracks your distance, pace, stroke count and more. Ski/Board mode tracks your entire skiing day with speed, distance, vertical drop and an automatic run counter (with Auto Pause for the lift line) and more, all the data is available at your fingertips at any time. For rowing fēnix 3 provides comprehensive rowing metrics including your number of strokes, stroke rate and even stroke efficiency also make use of the virtual partner during your training. Golf mode gives you yardage to the front back and middle of the green for any single course you've downloaded from Garmin Connect™. You can even use your fēnix 3 as a glove-friendly remote, via ANT+® wireless connectivity, for VIRB® action cameras.
You know your way
fēnix 3 Sapphire provides comprehensive navigation and tracking functionalities to guide you on and off the beaten track. fēnix 3 records a GPS track log creating a "bread crumb trail" as you move. It also allows you to mark locations, such as a start/finish line, course checkpoint, or a campsite, vehicle or other point of interest. With fēnix 3, you can create and follow courses or mark up to 1,000 locations and navigate to them. Plan trips and share adventures with friends and family using Garmin's free planning tool BaseCamp™ on your computer.
More than just ABC sensors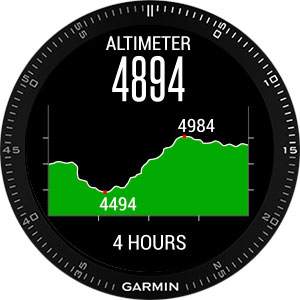 fēnix 3 Sapphire is equipped with a barometric altimeter and an electronic 3-axis compass. The device auto-calibrates theses sensors using its GPS receiver to provide the most accurate information possible. The built-in altimeter provides elevation data to accurately monitor ascent and descent, while the barometer can be used to predict weather changes by showing short-term trends in air pressure. The 3-axis electronic compass keeps your bearing whether you're moving or not. For accurate temperature reading from the watch, pair it with our ™ external temperature sensor.
Custom Apps and Watch Faces
Personalise fēnix 3 with free downloads from our store. You can customise your watch face, add data fields and get apps and widgets that provide information at a glance.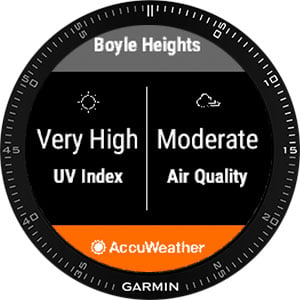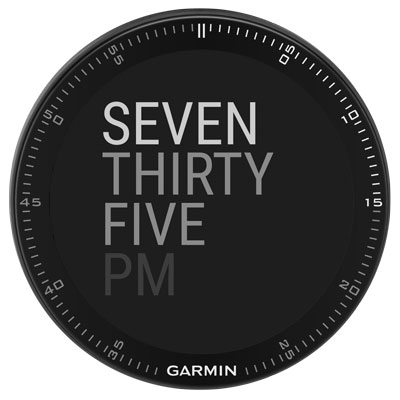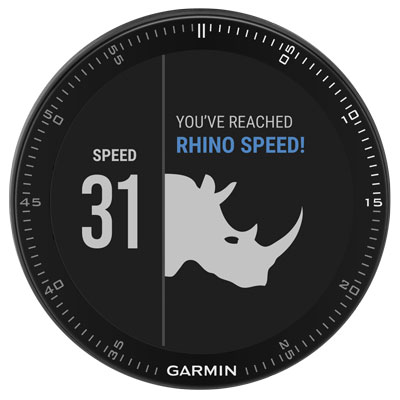 Stay Connected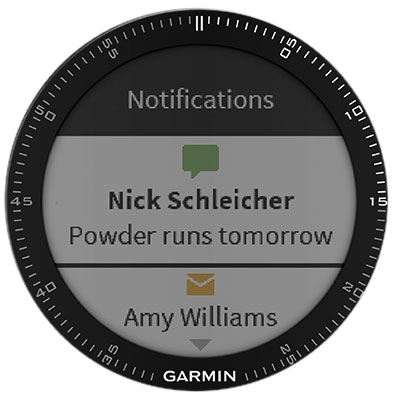 fēnix 3 Sapphire is really smart and keeps you in touch with the world – be it through your smart phone to receive Smart Notifications directly on the watch², to automatically save your stats to Garmin Connect™ throughout the day, or through your WiFi hotspot for seamless updates. If you want to, fēnix 3 even keeps family and friends informed about your whereabouts through LiveTrack².
Get even more information through fēnix 3 by combining it with one of the many optional Garmin ANT+ sensors like Vector® for cycling power, tempe™ for temperature, HRM-run for running dynamics and more.
Additional Info
Additional Info
| | |
| --- | --- |
| EAN/UPC Code | 010-01338-90 |
| Colour | Gold, Brown |
| Dial Color | White |
| Brand Name | Garmin |
| Warranty | International Manufacturer Warranty, Limited Warranty in India |
| Movement | Analog |
| Functionality | Day & 24 hour display |
| Water Resistance | No |
| Strap Type | Leather |
| Dial Shape | Round |
| Gender | Male |
Reviews
Tags